Baumann has been awarded the 2019 FLTA Award for Environment Excellence, following a previous shortlisting in 2017 and the 2016 award for Innovation.


A delighted MD, Klaus Pirpamer, stepped up on stage with the Baumann team to receive the Archie award, from English television presenter Mark Durden-Smith and sponsors, TVH.
With nominations in three categories, hopes were high this year, but with the Environment category being one of the most keenly contested, the win still came as a pleasant surprise.
With Tier 4 compliant engines, new 120v electrics, hydrogen powered fuel cells and a Watt d'Or Award from the Swiss Federal Office of Energy, Baumann has a strong track record in Environmental issues.
"To win the award is a great honour," said Klaus, "and is particularly pleasing during in the run up to our 50th anniversary. We have many developments in the pipeline, the great strides we've made with our electric trucks are very important to our customers and recognition from the industry for our efforts is also very much appreciated."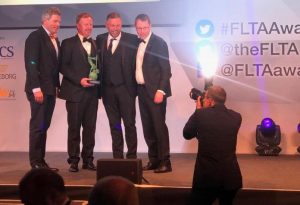 Now in its 25th year, the Fork Lift Truck Association Awards for Excellence is the biggest and most prestigious annual event in the materials handling industry calendar.
Baumann UK Dealer of the Year, Eastern Forklift Trucks, were also celebrating on the night, winning FLTA Dealer of the Year, which was also decided by a jury comprised of materials handling experts, to ensure that the hotly-contested Archie statuettes are awarded to the most deserving products and services.